Scientific and technical journal «Aviation Industry»
ISSN 0869-530Х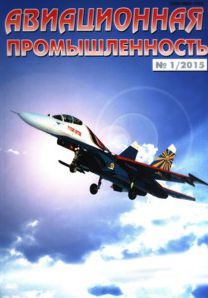 Aviation Industry journal was established in 1932, its periodicity — 4 issues per year.
Published by the Aviation Industry Department of the Ministry of Industry and Trade of the Russian Federation and National Institute of Aviation Technologies.
Editor-in-Chief — Oleg S. SIROTKIN Corresponding Member of RAS, Doctor of Technical Sciences, Professor, Chairman of the Board of Directors, JSC "National Institute of Aviation Technologies".
The journal covers the latest achievements of aviation industry in engineering, technology and industrial engineering.
Subject matter:
Aeronautical and helicopter engineering
Engine building
Avionics
Technology
Materials and metallurgy
Quality, reliability, service life
Economics
Design and calculations, etc.
Aviation Industry journal is included in the official list of the State Commission for Academic Degrees and Titles for transactions, the publication in which is considered during defense of doctoral and PhD theses.
Publication in the journal is free of charge.
The journal is published and distributed in printed and electronic forms.
Aviation Industry journal is distributed without any limitations by subscription of "Rospechat'" Agency – "Papers, Magazines" catalogue (index 85240) and in the editorial office.
Editorial office telephone: 8 (499) 317-86-66
E-mail: ap.red@yandex.ru
Journal page on the scientific electronic library site: http://elibrary.ru/title_about.asp?id=7638